Irrigation Systems Installation
Irrigation Solutions LLC will come out to your home for a free irrigation installation sales quote. During this approximate hour visit, we will evaluate your yard. Customizing a design that incorporates your wants and needs for a properly installed lawn sprinkler system. Irrigation Solutions LLC realizes that each lawn sprinkler system is unique within itself. May it be residential, commercial, or athletic fields, it all starts at the planning stage. As it is said "Plan your work then work your plan" holds very true to the construction of an irrigation system. Design, engineering, and using quality components are the three keys to a long lasting lawn sprinkler system.
Design:
Head to head coverage is the key to a properly designed lawn watering system. The residential sprinkler rotors most commonly used today are designed to throw thirty to forty feet. Even though it looks like most of the water is being applied to the farthest end. You are watering a much larger area, in reality that area receives the least amount of water. By watering this area with two heads. You are watering more evenly and efficiently, minimizing your watering duration and essentially using less water to create a healthy lawn.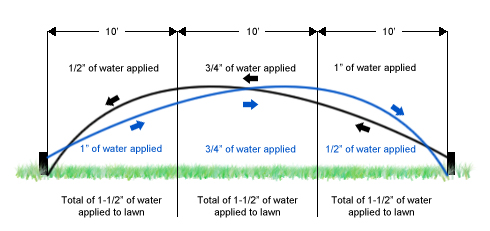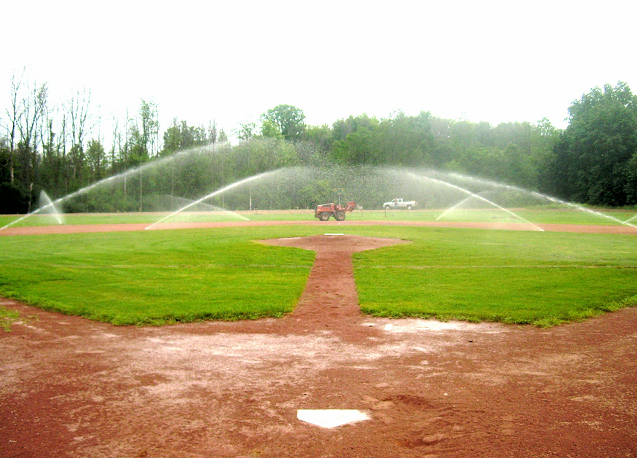 Engineering:
Engineering an Irrigation system is the application of scientific and mathematical principles to practical ends for a operation of an efficient and economical irrigation system, using knowledge and practical experiences that is applied to the design of your lawn sprinkler system. Ensuring that the lawn sprinkler heads are working at peak performance.
Matched Precipitation is a key to a well-engineered lawn sprinkler system.
Very simply, matched precipitation is matching up the volume of water coming out of each head on any given zone creating a even watering application.
The example to the right shows a circle divided by quarters.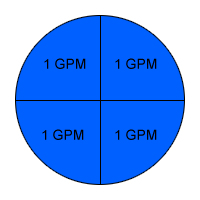 Each quarter has a sprinkler head rotor outputting one gallon per Minute (GPM) each. In theory if we have four GPM being applied to a full circle area. We will only need two GPM to be applied to the half circle area because it's only half the size of the full circle area. In turn, needing only one GPM to be applied to the quarter circle area because it's halve the size of the half circle area and only a quarter of the size of the full circle area. Keep in mind that, as a full circle lawn sprinkler rotor rotates one time around, a half circle sprinkler head will rotate back and forth twice and a quarter circle sprinkler head will rotate back and forth four times.
Quality of products:
Irrigation heads that are sold by an authorized distribution company are professional grade products. The most popular name brands are Rain Bird and Hunter. These are the products of choice by Irrigation Solutions LLC as well as most Irrigation professionals.
Value vs. Price
When you buy based on price alone more times than not, you end up with one of two situations. The most common is a contractor using quality products for your sprinkler system but they're not educated in proper design or understanding the proper engineering of a sprinkler system. Resulting in an irrigation system that will not meet your expectations! These components may last for many years but you as "the homeowner" will not receive the end result of your lawn being watered efficiently. Essentially needing more water during the watering cycle to produce the desired end result of a green lush lawn! The other situation would be a lawn sprinkler system that has been designed and engineered correctly but the contractor has chosen to use inferior products. Resulting in a premature failure of the product. Essentially needing more maintenance on your lawn sprinkler system during the summer months to produce the desired end result that you "the homeowner" deserves and wants.
Irrigation Solutions LLC offers competitive pricing along with expert knowledge of designing and engineering an irrigation system. We feel that once you consider all the quality issues, you will be confident that Irrigation Solutions LLC is the company that will give you the most value for your project, rather than selecting a contractor solely on the lowest price.
Buyer beware: It is true, you do get what you pay for
You as a consumer should demand and receive a quality irrigation system that will stand the test of time. You are paying for a service so there shouldn't be any reason why you don't receive quality products along with quality workmanship. Irrigation Solutions LLC will exceed your expectations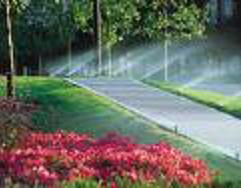 Note from the owner: Within the state of Michigan being unregulated and no guidelines for Irrigation professionals to follow. Customers need to be very careful in their selection of a contractor for their project. Please for your sake, ask for proof of the proper insurance. Many more businesses than you realize are either under insured or have no insurance at all.
Thank You
John Cierlik
Irrigation Systems Repair
With 24 years experience there's not too many situations Irrigation Solutions LLC has not come across. We're very confident that we can repair any problem that you may have with your lawn sprinkler system. Our irrigation service vans are well equipped to meet any of your lawn sprinkler needs.
Sprinkler System Upgrade
The popularity of having an irrigation system has been growing rapidly since the early seventies. With so many sprinkler systems installed in the last forty years many have become aged to the point of being a money pit. If your lawns sprinkler system functions, but has a high rate of replacement of components. Irrigation Solution LLC suggests maybe you should consider an upgrade of components. Replace the controller and the sprinkler heads. It would be like having a brand new lawn sprinkler system but at half the cost.